Costa Rica beaches are extraordinary.
You'll find 780 miles of them in this tiny country and two oceans from which to choose.
There are black sand beaches, white sand beaches, even golden beaches.
Beaches with beautiful women.
Beaches for families.
Beaches with giant sea turtles.
Swimming beaches.
Beaches with great surfing (not to mention lots of other great things to do).
Hundreds of different beaches, all on sparkling tropical waters, each awaiting your Costa Rica vacation adventure, many inviting great Costa Rica ecology tours.


Dozens are coveted Blue Flag beaches.
What's a Blue Flag beach? Pure. Pristine.
When you travel Costa Rica, you'll want to hit the beaches for sure.
Even if you don't surf, you'll love these great Costa Rica surfing beaches.

Uncrowded beaches.
Most of them pristine. But, of course, a handful rank above all others. We call them the
best blue flag beaches.

But, not all are pristine and there some to avoid for now.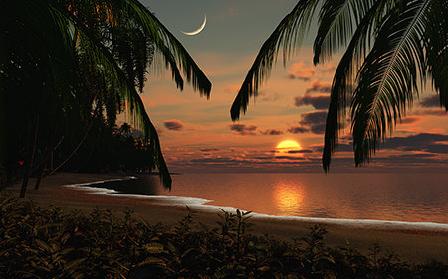 Before exploring some (remember, there are HUNDREDS) of these wonderful beaches, a bit of advice.
Some beaches in Costa Rica, including some of the most beautiful and famous, like Playa Bonita in Cahuita, Playa Dominical, Playa Espadilla (near Manuel Antonio), sometimes have dangerous rip tides even in shallow water.
If you get caught in a rip tide, remember three things.
First, don't panic. You won't be swept out to sea.
Second, float or swim parallel to the shore until the rip tide dies down and then swim at a 45 degree angle back to shore.
Third, never try to swim against the rip tide–always go along with it until it subsides.
Be sure your whole family is reminded what to do whenever you go to the beach and you'll have the Costa Rica vacation of your lives.

The Caribbean Coast remains largely undeveloped. Hundreds of miles long, most of it is inaccessible without a boat, but for beach lovers there are some great, little-visited beaches (miles and miles of beaches).
You're going to discover that the Caribbean has an ambience all its own. This is Bob Marley country, very, very Caribbean, very reggae in feeling and a world-removed from the rest of Costa Rica. The best easily accessible Costa Rica beaches on the Caribbean are south of Limon and can be easily reached by car or bus.
About 25 miles south of Limon is Cahuita, a very small, laid-back community with miles and miles of pristine beaches (some nearly black and others pure white) and coral reefs for snorkeling.
September and October are least-rainy months of the year (but you're likely to have blue skies most of the days anyway) here and if you come around October 12 you'll be able to enjoy Carnaval at Limon, a week-long fiesta celebrating Columbus day.

Cahuita has a famous Costa Rica beach, known for reef snorkeling with two shipwrecks. A few miles south of Cahuita is Puerto Viejo, a much livelier town famous for its surfing.
Go a bit farther and you'll find some of the most beautiful Costa Rica beaches.
White-sand, turquoise water, crystal-clear.
Great for swimming, snorkeling (August through October is the best time for snorkeling). And lots more to do around Puerto Viejo. But, don't just come to the Caribbean for the beaches.
There's so much more to do here than that. You can visit one of Costa Rica's Seven Wonders, where tens of thousands of huge sea turtles come ashore to lay eggs. it's the world famous Tortuguero National Park.

Try your hand at catching a world-record fish in waters teeming with huge tarpon, snook, marlin and everything else under the sun.
Surf, enjoy the birds, monkeys, and sloths, or simply lay back on pristine, uncrowded beaches.
It's all here, all part of your Costa Rica vacation.

The Costa Rica beaches along the Pacific Coast are world-famous for their beauty and filled with wonderful activities close-at- hand.
There are not a lot of places in the world where you can fly into an international airport and be just 20 minutes away from 17 spectacular beaches.
There's only one place: Costa Rica.
Just fly into Liberia International Airport and you'll be minutes away from paradise along the northwest coast of Costa Rica.
You'll be just 20 minutes from 17 great beaches called Playas del Coco. If you want real luxury, go a bit farther south to the fabulous Costa Rica beaches around Playa Flamingo. Lavish villas, hotels, resorts, incredible beaches.
Pull up to the largest marina between Acapulco and Panama and dock your yacht if you like.
Sorry, only yachts under 85 feet!
Check it out. Fabulous Flamingo Beach. One of the most famous and popular Costa Rica beaches is at Tamarindo.

Only 45 miles from Liberia International Airport, it's a favorite destination site for thousands of people each year.