Costa Rica Map: Tiny But Extraordinary Country
When you look at a Costa Rica map, you'll see how tiny this country is.
Don't be fooled.
You'll need a map to find all the things awaiting you on your Costa Rica vacation. 
We have LOTS of great maps. Start with this one.
And when you want to travel Costa Rica, come back here again and again to find other maps.
Look at the map of Costa Rica more closely.
Notice all the parks? Lots and lots of this extraordinary gem is set aside in parks and reserves. All easily visited. All close.
Within this tiny country are more butterflies than in the entire continent of Africa, more species of birds than in the entire United States. Hundreds of miles of beach on two oceans.
You'll see lots of maps on the page you are reading but when you travel Costa Rica, you are going to need a good map.
A good, waterproof, map like the one pictured to the left here (much cheaper online than when you get to Costa Rica).
Map-in-hand, what can you do in this little country?
World-class Costa Rica vacations for every taste.
Did I mention volcanoes? More than 100. Yep. Pretty hard to get them all onto one map of Costa Rica but they're here.
Only here can you stand at the top of a volcano and see both the Pacific and Atlantic oceans. Or swim in both of them the same vacation.
All here. Mountains, beaches, nature, world-class resorts, rafting, canopy tours, and MUCH more.
And if you love Hawaii, you'll love this place, year round because of the famous Costa Rica weather.
Hundreds of miles of spectacular beaches. Great swimming, sailing, world-class beaches, surfing, and. . . girl-watching.
There's even a lost city to discover at Guyabo National Monument.

Go to the Caribbean for a distinct, laid-back ambience.
Visit the Gold Coast with world-class hotels and resorts.
Try the little-developed Central Pacific coast. Uncrowded, spectacular.
Visit the Osa Peninsula, the most biologically intense place on earth.
Surf one of the longest breaks in the world on the South Pacific coast.
We have lots of maps to look at–even a map of the best surfing beaches.
Take your time. Look them over.
Map 2: Costa Rica Roadmap
This Costa Rica map shows the main highways traversing this little country.
Map 3: Costa Rica Cities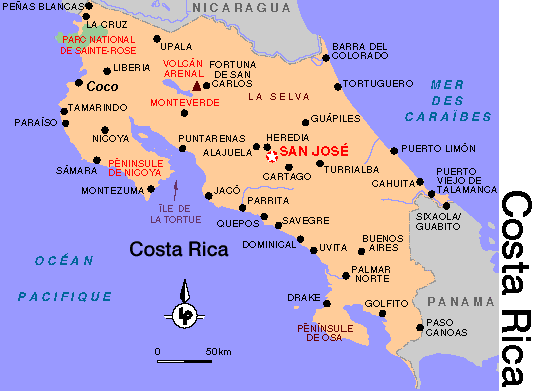 Here's a map showing you where some of the cities you may visit are.
Map 4: Hot Surfing Destinations
And, if you like world-class surfing, you've got two oceans to choose from when you travel Costa Rica.
This map shows just a few of the hot Costa Rica surfing destinations.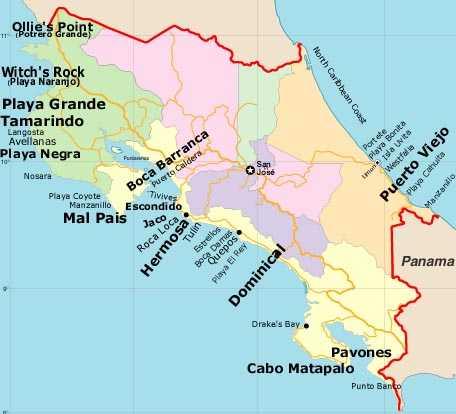 Map 5: Caribbean Coast
The Caribbean has a flavor all its own. This is Bob Marley country.
Great beaches and a jumping off point to Tortuguero, one of Costa Rica's Seven Wonders and, increasingly, a favorite Costa Rica vacations ecotourism locale.
And. . . spectacular Costa Rica fishing.
Map 6: North Central Region
Whether you want to see the magnificent Arenal volcano, visit the world-famous cloud forest at Monteverde, or catch 200 pound tarpon in the little-visited rivers out of Los Chiles (along the Nicaraguan border), this Costa Rica map will show you where to go.
Map 7: Gold Coast
Costa Rica's wonderful North Pacific Gold Coast is only a few minutes away from Liberia International Airport.
Map 8: Central Pacific Coast
The Central Pacific coast is uncrowded and spectacular. Just a couple of hours from San Jose, it's also just a ferry ride away from the Nicoya Peninsula.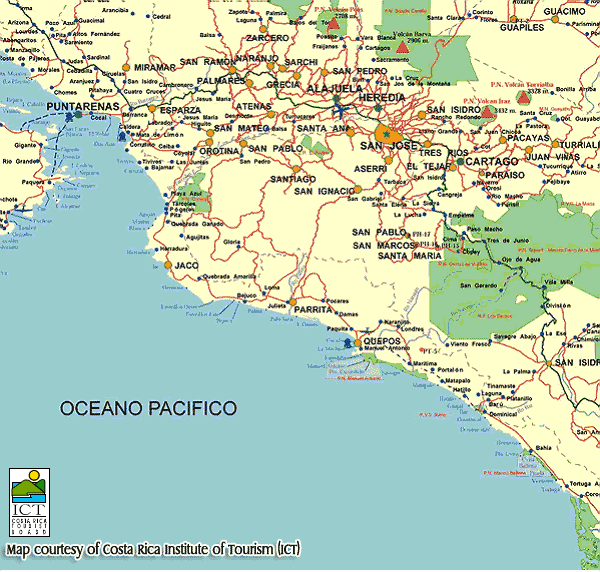 Click for Costa Rica ferry schedule.
Map 9: Nicoya Peninsula
This Costa Rica map shows the roads to the Nicoya Peninsula. It's easily–and cheaply–reached by ferry from Puntarenas or by car (or bus) from San Jose or Liberia using the Interamerican Highway.
You can also drive down the Gold Coast but driving and road conditions can be daunting. As you can see from the map, there are places along the coast with no identified road. If you undertake this task, be sure you have a 4 x 4 and you ask for advice before you go.
Expect a relatively dry climate, with temperatures between the low 70s and mid-90s year-round.
Map 10: South Pacific Coast to Panama
Here's a Costa Rica map of the South Pacific Coast. You can see the ferry route between Golfito and the magnificent Osa Peninsula.
The ferry leaves Golfito at 11:30 a.m. and 90 minutes later you'll find yourself in Puerto Jimenez on the Osa Peninsula.
When you're ready to return, take the 6:00 a.m. ferry from Puerto Jimenez to Golfito. It's very cheap—about $2.00 (that's about 1000 colones)—but it doesn't take cars.
Map 11: Osa Peninsula
Remember Sir Frances Drake? The fellow who sunk the Spanish Armada in 1588 and saved England? (If not, take my word for it).
Turns out, he was a very busy fellow who discovered Costa Rica's Drake Bay in 1579. That bay on the Osa Peninsula was wild and beautiful then and it's . . .
Still one of the most wonderfully remote areas of Costa Rica.
It took Drake months–and a lot of the Queen's gold (remember Elizabeth I?)–to get to the Peninsula. You can get there by ferry from Golfito in 90 minutes for about $2.00.
Intrigued? Here's a little map.
And remember: Sir Frances discovered one bay. You can discover lots more.
Map 12: Scuba Diving Locations Gold Coast
Here's a bit of a specialized map.
If you're a scuba diver (or want to be one), here's a nice Costa Rica map showing dive spots on the Gold Coast.
Map 13: Dive Map for Cocos Island
Cocos Island is one of Costa Rica's 7 Wonders and nominated as one of the Seven Natural Wonders on earth. It's an extraordinary place, 300 miles offshore and half-way to the Galapagos.
It's also one of the top scuba diving destinations on the planet. So get out your Costa Rica map, pull on your swimsuit or hiking boots. Pretend you're Indiana Jones. Or Sir Frances Drake. Expect the unexpected on your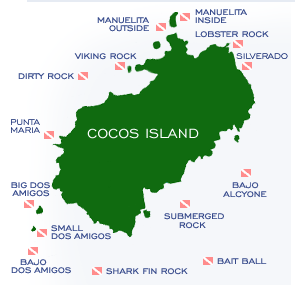 Costa Rica vacation.
It's all here.
And more.
Waiting for you.